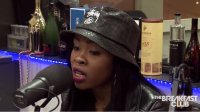 Last November, Timbaland stopped by Power 105.1's The Breakfast Club to hype his then-unknown new artist Tink. Now almost five months later, the Chicago femcee herself makes sits down for her first official Breakfast Club interview to talk about her upcoming new album, Think Tink, comparisons to Lauryn Hill and Aaliyah, working with Timbaland, the female experience in Chicago, coming up in the drill scene, how the media pits female hip-hop artists against one another, and more. She also treated them to a special freeystle at the end of the show.
On competition between women in hip-hop:
"A lot of females have the mindset that I'm in competition. I have to be No. 1. So it's harder for a female to reach out and say, 'You're good' because it's almost like a self-esteem thing. Man, but there's so much room, I don't even know why people think, 'She's coming for my spot.' Everybody thinks there has to be one female in charge or they put us in competition so much that we can't even support each other or we're scared to say, 'Hey you're pretty good, jump on my song' or just reach out. I'm honestly not sure why [females emcees always get compared to other female emcees]. I think it just goes back to it being a sport."
On criticism that "Ratchet Commandments" slut-shames women:
"When I made song it was more so let's be aware of what's going on. Nobody's talking about this. Let's put it out there that this is what's going on. Somebody has to say it. For the most part, we have so much of the 'shake yo ass' songs or 'watch me twerk' type of music. So why not? Why am I being criticized for being the one out of a million songs that goes against what everybody's talking about.
Source: www.musictimes.com
Related posts: