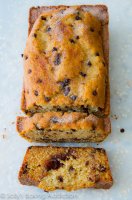 Incredibly-moist quickbread with a iseep, dark cinnamon swirl inside. Oh, there's chocolate chips too!
You see this bread here?
It was supposed to be heavily drizzled with a vanilla glaze, BUT… was too incredible as is! Drenching it in a glaze would take away from all of it's cinnamon, brown-sugary, chocolate chippy flavor.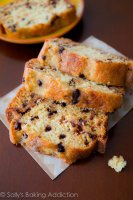 I found myself sneaking a small piece after breakfast, after my workout, and heck – I even replaced my nightly popcorn bowl in the name of swirled quickbread. If I hadn't promised Kevin's motorcycle friends (yes, I've been on it. yes, it's frightening!) a few slices, then we'd probably polish off every last sugary crumb in only 2 days.
I'll never tire of cinnamon swirl bread. Growing up, my favorite school morning breakfast (umm besides strawberry toaster strudels) was cinnamon swirl bread, toasted and buttered. It sounds pretty boring, but if you've ever had a piece of buttered cinnamon-swirl bread, then you know what I'm talkin' about!
I craved the same comforting flavors last week and before I knew it, this quick bread came to life. As I reached for a few pecans to toss into the batter, I accidentally grabbed the chocolate chips instead. Oops?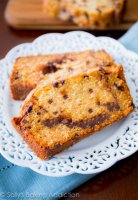 Swirled with cinnamon sugar, topped with more, and dotted with teeny tiny chocolate chips. It's almost like cake – soft, tender, and moist. I mean common, look at that deep, dark ripple of cinnamon!
Baking science alert!
Imparting moisture are a few of my very favorite baking ingredients: oil, buttermilk, and brown sugar.
(1) First, the oil. I use oil in my Super-Moist Carrot Cake recipe and knew it was exactly what this quickbread needed. Butter is a fat that gives unbeatable flavor in my recipes, but nothing beats the moisture that oil brings – especially to muffins, cakes, and quick breads. There is so much flavor from the cinnamon, brown sugar, and chocolate chips that the flavor of butter would disappear anyway.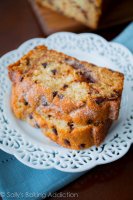 (2) The buttermilk. Don't try to substitute the buttermilk with anything! Buttermilk is what makes my Triple Chocolate Cake so darn moist. You absolutely need buttermilk for this quick bread recipe. The lactic acid present is what will allow the baking soda to produce the leavening gas (carbon dioxide).
Don't have buttermilk? Most folks don't typically keep buttermilk in the house. Save yourself a trip to the store and make your own at home. Measure 1 Tablespoon of white vinegar or lemon juice in a measuring cup. Then, add enough milk (1%, 2%, or whole) to the same measuring cup until it reaches 1 cup. Stir it around and let sit for 5 minutes. The homemade "buttermilk" will be somewhat curdled and ready to use in your recipe.
green rocket crowdfunding
marine engineering
entrepreneurial skills pass
ibm courses
business analytics
online painting classes
falak startups
mahresult ssc result 2021
public health course
smu crowdfunding
turkey burslari scholarships 2021
groundfloor crowdfunding
schooling
social entrepreneurship examples
small business startup ideas
edx free courses
effectuation in entrepreneurship
digital electronics
fedvte
dhe admission
stripe startup
logistics courses
my startup
mbbs
characteristic of successful entrepreneur
conda crowdfunding
macmillan education everywhere
icse 10th result 2021
pmp course
mainstreet startup
seo course
paypal givesendgo
art teacher
tourism entrepreneurship
razorpay funding
atrium justin kan
Source: sallysbakingaddiction.com
Sticky Fingers Scone Mix (Pack of 2) 15 Ounce Bags - All Natural Scone Baking Mix (Cherry Chocolate Chip)


Grocery (Sticky Fingers)




Enjoy the the luscious taste of home-baked goods with Sticky Fingers Scone Mix. Includes two 15 ounce bags in the flavor you select
Quick and easy to prepare scone baking mix. Just add water, mix and bake!
Sticky Fingers uses quality ingredients in their scone recipes. Scone mixes contain no artificial flavors, colors, preservatives, cholesterol, trans-fats or saturated...
You ll savor the taste and love the convenience of quick homemade scones that uses the finest all-natural ingredients, including fruit, veggies, spices and herbs
What s more inviting than warm scones, fresh from the oven? In just 12 to 15 minutes you can have fresh baked scones for breakfast, with coffee or tea or any time...
Made in Nature Organic Toasted Coconut Chips, Vietnamese Cinnamon Swirl, 16-ounces (1lb), Kosher


Grocery ()




Made In Nature Organic Toasted Coconut Chips are made with nothing but pure, organic ingredients and no refined sugar or artificial flavors.
10g carbs, 5g fiber, 5g of sugar per 1/2 cup serving!
OU Kosher, USDA organic, NON GMO Project verified, BPA free packaging
Fabulously addictive out of the bag, great in recipes like oatmeal, granola, and bread pudding
Sticky Fingers Bakeries Scones Mix Peppermint Chocolate Chip -- 15 oz


Health and Beauty (Sticky Fingers Bakeries)




All Natural Holiday Spirit in Every BiteSticky Fingers brings a new tradition to your kitchen this holiday season
Sticky Fingers Bakeries

Bob's Red Mill Bulk Flour, All Purpose, Gluten Free, 1600B25, 25-Pound (Pack of 1)


Grocery (KeHE Distributors)




25 Pounds
Serving Size:
Gluten Free

Bob's Red Mill Gluten Free All Purpose Baking Flour, 22-Ounce


Grocery (Bob's Red Mill)




Gluten Free.
Blend of garbanzo bean flour, potato starch, whole grain white sorghum flour, tapioca flour and fava bean flour.
Can replace wheat flour in a variety of recipes.
One serving of 34 grams contains 3.5 grams of whole grains and 10% of the recommended daily serving of fiber.
Excellent for baked goods such as cakes, cookies, breads, and breakfast items such as muffins, pancakes, and waffles.
Related posts: