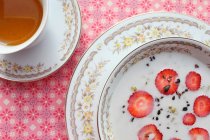 Eating oatmeal for breakfast gives me the shakes, the jitters, the sweats, the starry eyes, and the 11 o'clock "I've gotta eat something or I'll die!" kind of feeling. Same with amaranth, buckwheat, quinoa, and millet, oh especially millet. I do not enjoy the hormonal roller coaster ride my sympathetic nervous system gives me after I eat a hot grain for breakfast. This little morning catecholamine experience is also known as hypoglycemia — that after-breakfast-empty-stomach-jitter-wooziness.
I loved eating gluten-free grains for breakfast, all hot and milky, but I had to say goodbye. The hypoglycemic episode that resulted was no longer worth it. I've tried so hard to keep them in with all kinds of magical blood sugar tricks, but it hasn't worked. What else could I eat that would give me that hot, milky, mushy, sweet breakfast food I craved?
Mung Bean Breakfast Soup!
Had I not discovered mung bean breakfast soup, I don't know what I would have done. It is my five star replacement for a hot grain breakfast. The mung beans cook up soft like a grain, with a mild flavor, and swim in a rich coconut milk base. I love to top it with raw cacao nibs and fresh strawberries. The photo shows just about as much strawberries as my blood sugar can handle in the morning. The cacao nibs, they pop with crunch and flavor! You can also try topping it with blueberries or even avocado. In a hurry, I just eat straight-up mung bean soup with stevia.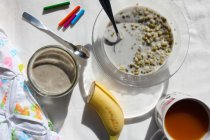 Mung bean breakfast soup offers fiber and protein for the first meal of the day. It is 100% allergy friendly. Unless, you are allergic to mung beans. But I doubt that. This breakfast would also be an excellent option for the (hated) elimination diet. A lot of people have no idea what to eat for breakfast if they are grain-free, soy-free, and vegan. Eat this!
My three year old daughter gobbles up this breakfast soup. I've also pureed it with a little bit of banana for my 9 month old baby. She especially loves this soup when she can feed herself the mung beans while mastering her pincer grasp, one mung bean at a time.
The recipe is easy and quick, but there is an annoying catch — you should soak the mung beans overnight. It's ok though, just leave them out on the counter. The ingredients are basic: mung beans, water, coconut milk, and stevia to taste. The recipe below gives me breakfast for about 3-4 days (I sometimes have seconds).
Source: www.archerfriendly.com
The Sprout House Certified Organic Non-gmo Sprouting Seeds - Oat Groats 1 Pound


Grocery (The Sprout House)




Buy Certified Organic Non-GMO Sprouting Seeds only.
We believe in quality seeds.
Just soak them overnight and eat them in the morning.
Mix them with Buckwheat groats, too.
Fresh Fast Food Breaksfast.
Related posts: