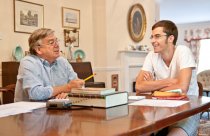 Your English course, whether you want general English or business and professional English, will be specially designed to suit you. It will be based on your needs, and on your existing knowledge, which will be assessed in a short test and interview. We agree a programme that reflects your strengths and weaknesses. Generally each course will include listening and pronunciation exercises and considerable speaking and work on vocabulary. Grammar will be taught where weaknesses are identified, but the emphasis will always be on communication. Written work and exercises will be provided for work out of class if required.
Course materials are provided. Students should bring a good dictionary translating from English into their first language. English dictionaries are provided.
The lessons are used to teach new material, correct mistakes, provide structured practice and to teach good learning habits. However, we believe that the best way to learn English is by listening and imitation, as an English child learns its first language. To do this, students need to be immersed in English language and culture, and to hear and speak nothing but English during their stay. This can be a tiring experience, and so we also believe that the student needs to be able to relax, with good company and good food in a comfortable home.
A typical day might start with breakfast at about 8.30 am followed by lessons from 9.00 am to 1.00 pm, with a coffee break at about 11.00 am. After a light lunch, the student is free to continue working on exercises or written work, read, watch TV or videos, walk in the surrounding countryside, go sightseeing or shopping in Oxford or Reading or undertake one of the options from our cultural programme. Dinner is usually at 7.00 pm to 7.30 pm.
Students are usually asked to join us on visits to cinema, theatre, pub or friends. Many students choose to use the weekends for their own sightseeing trips to London or Bath or Stratford-on-Avon, which are all easily accessible from the nearby (20 minutes walk) mainline railway station at Didcot.
More:
Source: lemontreehouse.squarespace.com
Related posts: