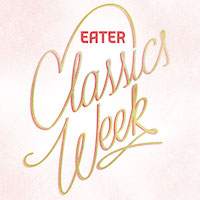 All this week, as a Classics Week special, Eater is sending correspondents to classic New York restaurants and their newer counterparts, to see how the two compare. They'll report back on the scene at both, suss out the differences, and maybe even shed some light on what makes the classic a classic. Up today, Associate Editor Devra Ferst, with a look at the early morning power scene:
As my dining companion and I waited for a table amid pairs and trios of men in well-tailored suits, and women with perfectly placed hair early on a Tuesday morning at the Loews Regency Hotel she remarked, "When you live in New York, it's easy forget that there are so many other New Yorks happening at the same time — sub-communities that rarely intersect." This was not our New York. We felt very far, literally and culturally, from our Brooklyn apartments where breakfast is coffee and perhaps some toast or yogurt eaten haphazardly while half dressed for work.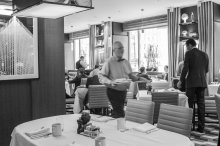 For some New Yorkers, the power breakfast is a ritual that takes place on the way from expensive Upper East Side apartments to grand but chaotic offices in Midtown and on Wall Street. In response to the havoc of New York in the 1970's, Loews' then-owner, Preston Robert ("Bob") Tisch, invited leaders in business and politics to an early morning breakfast. Tisch beckoned influencers with the suggestion, "We'll talk and figure this out, " explains longtime New York restaurant consultant Clark Wolf. "It was a very effective word of mouth campaign to get New York going in the right direction again." Deals were discussed at one table and sealed at another. "People table hopped like crazy, " explains Wolf.
The environment is civil but intense, as if the steam wafting from the $7.50 cups of coffee has caffeinated the entire room.
An entire culture grew around the breakfast at The Loews Regency, and it has continued for 40 years. Chauffeurs of regulars wait outside, while diners grab one of the five papers stacked along the bar and are escorted to a table in the dining room, greeting colleagues and social acquaintances at tables they pass. Less established members of the club make the rounds of tables, to "glad hand and network, " and pay homage, explains Adeena Sussman, who is co-authoring a book with Lee Schrager tentatively called Breakfast in America, and recently attended the breakfast with Jonathan Tisch, Bob's son.
Downtown, a new younger generation of stylish influencers, who work at nearby tech companies, fashion houses, PR firms, and the like joined the cult, making the tradition their own at The NoMad, The Breslin, and a few other restaurants. Mark Zuckerberg clones in hoodies and blazers tap away on their laptops, sipping Intelligentsia Coffee, as 20-something women who work in the fashion world pick at their breakfasts or sip a green juice in The NoMad's skylighted atrium. The clientele is younger, the approach to food more contemporary and in focus, and the hour of attendance later, but the family resemblance is clear. This is a place to work and network, where who you are eating with is just as important as who sees you eating with them (or, more likely, reads about it later on Instagram).
Source: ny.eater.com
Table Mats background in grunge style with splatters and hand letter Image 2094301 by MSD Customized Tablemats Stain Resistance Collector Kit Kitchen Table Top DeskDrink Customized Stain Resistance Collector Kit Kitchen Table Top Desk
Home (MS Depot)
MADE IN USA. Designed, Printed and Shipped out of our California Facility. Item is sold under our Private Brand MSD ONLY. 100% Satisfaction GUARANTEED, be aware...
State of Art printing technology, 8-Color offset lithography printing to ensure the HIGH RESOLUTION, LONG LASTING and exceptional image Quality. While most of the...
COPYRIGHTED material. Non-exclusive display rights granted to MSD . Thousands of Royalty Free Stock Images available and UPDATED DAILY. Search and visit our Amazon...
Our products are HANDMADE and Custom Printed upon Order. Due to HANDMADE processing may take 1-2 business days. Please Visit us for more Cell phones, Tablet cases...
High quality cloth weave surface bonded to a special NON-SLIP natural Eco-Friendly rubber base to enhance precise tracking, effortless control, steady surface support...
Galaxy S5, Galaxy S6,galaxy S6 Edge Sport Armband , Nancy's Shop Easy Fitting Sports Universal Running Armband with Build in Screen Protect Case Cover Running Band Stylish Reflective Walking Exercise Mount Sports Universal Armband Case+ Key Holder Slot for Samsung Galaxy S 5 , Samsung Galaxy S6,samsung Galaxy S 6 Edge (Black)


Wireless (Deego)




Designed specifically for Samsung galaxy S 5 , Samsung galaxy S6,Samsung galaxy S 6 Edge
Exercise your right to a case is also a Sports Armband. Stays put while you run. Touch screen works through the clear cover
Built in key holder to help minimze carrying extra items while you excercise. Secure your device worry free and free your hands! Listen to your music with your hands...
Strong light weight exclusive neoprene material that protects your device.
Able to access to headphones, buttons, touchscreen feature on the cell phone.

Deego Fashion Graphic Design Hard PC Lightweight Case Slim Anti-Scratch Protector Skin Back Cover With Transparent Borders for Samsung Galaxy S4/S IV/I9500 (Bling Breakfast)


Wireless (Caseby)




Specially designed for Samsung Galaxy S4
Exposed buttons and port openings for quick and easy access
Colorful design adds style and character to your CellIphone
Secure, slim and lightweight case protects your device from scuffs and scratches
Simple, elegant, functional, the Vibrance Case features a refined design, vibrant colors, and lasting protection.
Related posts: