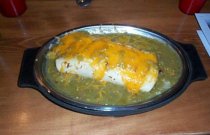 Green chile breakfast burrito from Tia Sophia's; photo credit/Art Wolf
For blogger and local Santa Fean Billie Frank, choosing what to eat for breakfast is easy – a delicious breakfast burrito. The difficult, and often complicated task, is choosing where to get it. As a result, Billie took to the streets in search of the perfect Santa Fe breakfast burrito.
There's nothing like a Northern New Mexico breakfast burrito. They are my Santa Fe breakfast of choice- a symphony of eggs, potatoes, cheese and for meat eaters, the decision between bacon and chorizo. Then comes the really big choice; red, green or Christmas. If you're not from these parts, that's the chile you want in or on top of your burrito. A request for Christmas gets you a mix of red and green. But it wasn't always what I ate. When I first arrived here, I was a traditional American breakfast lover. I didn't like it hot. It took a while before I took the plunge and I'm so glad I did. Here's the story of my search for the perfect Santa Fe breakfast burrito.
stylish womens walking boots
international kissing day
law society england
outdoor games for kids
matching family christmas pyjamas
christmas markets manchester
ineffective communication
tracking worldwide
how i start my business
worldwide box office 2022
tbilisi coworking spaces
what is a good turnover for a small business uk
society girl crossword clue
how to start pressure washing business
latest floods worldwide
stylish jeans
gas outdoor heater
argyle's communication cycle
stylish laptop bags for women
hellman worldwide logistics
stewart investors worldwide sustainability fund
international travel scotland
society house
air worldwide
how to get business registration number
open space coworking
henry jackson society
coworking porto
outdoor pots
communication system
Source: santafe.org
Santa Fe Culinaria Blue Corn Pancake Mix 15 Oz


Grocery (Santa Fe Culinaria)




Enjoy the taste of the Southwest with this blue corn pancake mix made in Santa Fe, New Mexico
A blend of finely ground organic Hopi heirloom blue cornmeal, unbleached spring wheat, organic oat flour and organic soy flour for a delicate texture and unique...
15 oz bag
Related posts: