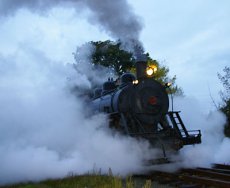 2012 Special Events Schedules
The Chehalis-Centralia Railroad & Museum offers a wide palette of special events throughout the year. These range from family-oriented holiday events, like our, our, the ever-popular, and, as well as many and fun for adults like our .
If you have a special event of your own, consider a private car or even an entire train. And last but not least, we have the ultimate gift for someone who has everything: a thrilling of a 1916 steam locomotive!
There's always something exciting on the Chehalis Centralia Railroad!
Dates
June 29
July 27
August 31
September 28
October 27
Duration
Approximately 2 hours
Departure Times
Saturdays
5:00 PM*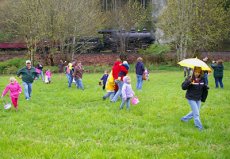 * October 27th will depart at 4:00 PM
Fares
Adults: .00
Children (10 & Under): .00
Accessibility
All trains have accessibility for people with disabilities
On-board restroom accessibility is limited
PHOTO: Dave Laclair
Murder Mystery Dinner Trains
"Who dun' it?" Those are the words that will be in your head as you enjoy a ride on the Chehalis-Centralia's Murder Mystery Dinner Train. As you sit and enjoy your dinner, you can imagine yourself in the middle of an Agatha Christie murder mystery. The train will depart the station at 5:00 PM and return about 7:00 PM. Dinner will be served on board the train in the refurbished dining car while clues and entertainment are provided along the way. You will have an opportunity to be a detective and solve the crime.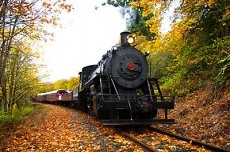 The trip includes a four-course meal with your choice of chicken, salmon or prime rib, as well as train ride tickets. (Menu below subject to change without notice.)
Menu

Fresh vegetable plate

Green salad with Ranch dressing

Choice of entree: 1.) 12 oz. Prime Rib
2.) Baked Salmon with lemon
3.) Chicken Cordon Bleu
Potatoes & vegetables
Dessert

In addition, red or white wine will be available for those 21 years and over for $6 extra.
Children's menu is available for ten and under, and includes chicken strips, potatoes and vegetables, and dessert.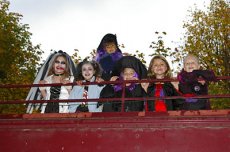 Please remember to order your entree choice at the time of reservation.
Departure Times
Times Saturday
10:30 AM
12:30 PM
2:30 PM
Fares
All tickets: TBD
Accessibility
All trains have accessibility for people with disabilities
On-board restroom accessibility is limited
PHOTO: Dave Laclair
Easter Trains
The Chehalis-Centralia Railroad operates an annual old fashioned Easter Egg Hunt each April.
Climb aboard for a leisurely Saturday train ride while the "Easter Bunny" and "Chicken Little" hide the eggs. Upon the return of the train, children (12 years and under) will go into the "egg field" to gather candy filled Easter Eggs! Many eggs will have prize tickets inside to be redeemed in the depot.
Activities will vary for age groups 3 and under, 4 through 7, and 8 through 12.
In addition, pictures with the Easter Bunny and Chicken Little will be available for purchase on the depot deck after the hunt.
No reservations are required. Space is available on a first come, first served basis, so you are encouraged to come early. Inside seating space is limited.
Source: www.steamtrainride.com
Related posts: