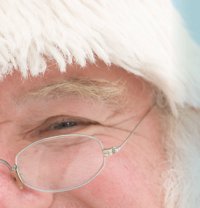 Santa is coming to town and will be making appearances this year at Bellevue Square and The Bravern prior to Christmas. Boys and girls, get your lists ready for him!
The Bravern: Breakfast With Santa at Neiman Marcus
"Breakfast with Santa" is a family friendly event that takes place at Mariposa in Neiman Marcus. Enjoy food, entertainment, and a complimentary photo with Santa.
Date: Saturday, December 3rd & Saturday, December 10th @ 9:00 AM
Cost: $50 for adults & $35 for children.
Contact: To RSVP, please call 425.452.3333 –
Bellevue Square: Photos with Santa
The tradition of Santa at Bellevue Square continues. Get your family pictures taken with Old St. Nick any day of the week. This tends to b very popular every year, so make sure to plan accordingly and arrive early.
Dates: November 24th – December 24th @ variable times; check the for daily information
Source: downtownbellevue.com
Santa Claus Silverware Sets - Christmas Cutlery and Napkin Holders - Fits Gift Cards Too


Home (The Season's Heart)




SANTA SUIT SILVERWARE AND NAPKIN HOLDER SETS: 1 jacket and 1 pair of pants that each hold a fork, knife and spoon or small surprise gift
TRANSFORMS ANY CHRISTMAS breakfast, coffee, tea, dining or PARTY TABLE into a festive & charming Holiday setting
GIFT-GVING MADE EASY: Use Santa Silverware Sets & Cutlery Holder as unique and creative Gift Card Holders
CREATE A LASTING IMPRESSION for your friends, family and at your special Holiday events
BUY 3 SETS AND SAVE 25% : SURPRISE SOMEONE with Santa Claus adorable silverware gift pockets and have a fun and awesome time
Related posts: