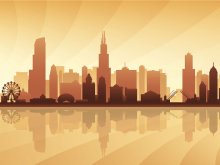 On Sept. 20, Food Network is throwing the ultimate end-of-summer bash: an outdoor food and music festival in Chicago. With today's top chefs and big musical artists like John Mayer and Phillip Phillips, it's sure to be a delicious experience worth the travel.
The event officially starts at 11:30am with lunch, so concertgoers will be on their own for breakfast, which isn't a bad thing at all considering the countless great restaurants in the area. To narrow down the best options, we enlisted the help of Food Network chefs. From old-school diners to five-star hotels, here are Chicago's best breakfast spots. (Just try to save some of your appetite for all of the gourmet hot dogs, award-winning burgers and other mouthwatering eats at the festival.)
Geoffrey Zakarian: The Drake Hotel
Anne Burrell: I love going to The Palace Grill [Sandwich Shop]. They have the best breakfast, and the owner, George, has even better jokes!
Marc Murphy: Little Goat has a great breakfast with some really creative options like Kimchi and Bacon and Eggs with Pancakes; m.henry is an awesome spot for breakfast or brunch as well. They serve a delicious drunken stuffed poblano pepper with scrambled eggs, chorizo, fresh mozzarella and sweet corn. I haven't been to The Publican yet, but I heard Sunday brunch is a can't-miss. It's on my list for September!
Jeff Mauro: By far the best omelet in the Chicagoland area is at Delia's [Kitchen] in Oak Park. It's my own creation: ham off the bone, cheddar and fresh jalapeno. With a side of sliced tomatoes and iced tea, it's the greatest way to start the day.
Alex Guarnaschelli: When it comes to breakfast, I am either all-in or grab and go. For the all-in, I love having breakfast at The Peninsula Hotel. The room, the light, the eggs — it's a luxurious way to start the day. If it's grab and go, I like Dinkel's for their baked goods, doughnuts in particular.
Jose Garces: There are two spots in the South Loop that I love: Yolk and Eleven City Diner. The ambiance at Yolk is so sunny and exactly the kind of cheeriness you'd want to be surrounded by at breakfast. At Eleven City Diner, my kids and I love the specialties from the soda fountain — it's such a throwback.
Source: blog.foodnetwork.com
Related posts: