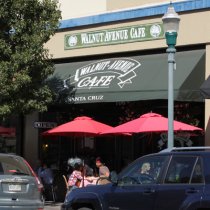 You know a restaurant is serious about brunch when they aren't even open for dinner.
In Santa Cruz, that restaurant is the Walnut Avenue Cafe, located downtown off Pacific Avenue.
Since opening in 1994, Walnut has been known as a go-to spot for locals and visitors alike to catch up with family members, nurse hangovers with friends, or share a romantic brunch with a love interest.
Fans of a good, old-fashioned savory breakfast have a lot to choose from.
There are a ton of scrambles, build-your-own omelets, Mexican-inspired dishes like Chilaquiles and huevos rancheros, and a few different variations on Eggs Benedict. The home fries that come with most meals are hearty and perfect for soaking up anything left on the plate at the end of the meal.
If you use brunch as an excuse to have dessert before noon, don't worry, Walnut's got you covered. Their French toast with bananas is one of their most popular items, as are the Belgian waffles with strawberries and fresh yogurt. The nine-grain pancakes are a nice alternative, especially when drenched in boysenberry sauce.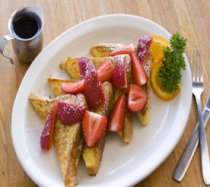 Walnut Cafe is definitely known for their brunch, but that doesn't mean they don't have a great lunch menu. I'll admit that I've hardly ever bothered with that side of the menu before (sausage of the day with eggs is pretty much always my thing), but friends swear by the Chinese chicken salads, daily pasta specials, and California burgers.
Round all that food out with an espresso, iced mocha, or fresh fruit smoothie, and you're set with a delicious meal. But there isn't a perpetual crowd outside the Walnut because of the food alone — the atmosphere deserves some credit as well. Although the restaurant seats tons of people at a time, it still manages to have "cute little brunch place" written all over it, from the tiny two-person booths to the beautiful outdoor seating area. If you're short on time and dining solo or in a pair, the wooden counter almost always has a few seats open, and you can sit down right away.
Source: santacruzlife.com
R & M Sleigh Cookie Cutter


Kitchen (R & M International)




Size: 4 X 2 5/8 X 1 inches.
Made of tin-plated steel in the USA
Great for cutting cookie dough, craft clay, soft fruits.
Wipe with damp cloth to clean
Do not put in dishwasher.
Related posts: