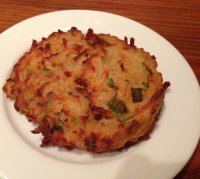 Country French Breakfast
Cracks in the armor. Sadly, the La Madeleine of old seems to be disappearing fast at the chain's once-mighty Bethesda location. After a less than stellar lunch review last month, I decided to give their
breakfast menu
a once over... only to discover a few different errors along the way.
Ordering took some effort on my part... nobody was there to take it, and the soup/salad guy instructed me (a minute later) to order with the cashier. The cashier was kind and friendly, and I went back to our table to wait for a Parisien Eggs Benedict and the Country French Breakfast for yours truly. A minute later, the cashier came by to tell me they were out of sausage, and would I mind bacon instead? No problem. It took just under 10 minutes to receive our order, but the Potato Galette was conspicuously absent from my plate: I had to go back to the front of the restaurant and ask the hostess (who was back at her station) for the rest of my breakfast. To her credit, she took care of it personally and fixed the situation (with an apology) in less than a minute.
Potato Galette
Back at our table, my eggs went from ? to stone cold. They were also wet underneath. Thankfully, my substitute side of bacon was crispy and tasty. The potato cake was lousy with garlic... way too much to stay hidden alongside green onions and overcooked (burned at the bottom) hash. So far, not so good. Thankfully, my croissant was flaky and rich as ever... Hands down, the best thing on my plate. At $7.89 a plate, I expected hot food and a passable hash at the very least.
I haven't seen some of my favorite staff in consecutive visits; and I can't pretend to be impressed by who's taken their place. This recent slide has me more than just a little concerned: After all, La Mad is one of my favorite places to eat. Since we're keeping score, I also haven't received a survey invitation (and a free pastry, upon completion) with my receipt in over three months. Perhaps they're hiding something? I sure hope not.
Source: www.dcoutlook.com
iPhone6 Plus Sports Armband, Nancy's shop Easy Fitting Sports Universal Armband With Build In Screen Protect Case Cover Running band Stylish Reflective Walking Exercise Mount Sports Sports Rain-proof Universal Armband Case+ Key Holder Slot for Iphone 6 Plus (5.5 Inch) (Sky blue)
Wireless (Deego)
Designed specifically for iPhone 6 Plus, Lightweight armband keeps your phone secure and protected.
Water Resistant and sweat-proof funtion to better protect your mobile phone, make you feel more comfortable during exercise,Due to varying color display...
Built in Reflective strip for safe running in low light conditions. Built-in Key holder. Cutouts for easy access to headphones port and controls. A sweat resistant...
Material: Lightweight soft neoprene that is molded to twist and bend but will not stretch out of shape. Washable with gentle soap and water, then air dry. Can keep...
Functionality: Provide excellent protection during sport, such as running, biking, jogging, walking, working out etc. Touch screen works through the clear cover
Related posts: