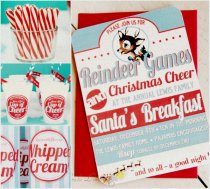 I'm as giddy as a child on Christmas morning to share our latest family celebration! We had so much fun, ladies. As you know, I do an annual Santa's Breakfast for family and friends. I ran with the Reindeer Games theme this year! Here's this year's party photos!!
Event Details and Notes;
1) Due to the large number of people coming this year (every one has had a baby!!!), I absolutely refused to cook! I know some of the men missed the homemade hot pancakes, but they forgave me once they saw the doughnut tower! Men are so easy to please. Maybe that is why I love them so much!I stacked doughnuts one on top of each other to create a self-serve doughnut tower.
2) A hot cocoa bar was a must. I placed little dishes filled with peppermint swirl sticks, mini chocolate chips, marshmallows, and cinnamon around for guests to enjoy with their hot cocoa. And who doesn't need a bit of Dasher & Dancer Whipped Cream with their hot cocoa?!? Apparently, not everyone is obsessed with whipped cream as I am, because I had a million bottles left over. If any one wants one, my fridge is well stocked.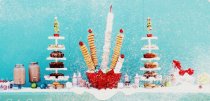 4) Since there is not a snowflake in sight here in Texas (80 degrees today!), I placed fake snow all around the table! I thought this was brilliant. Unfortunately, I didn't think about the wind factor.We had a mini severe winter fakestorm as shown in the above photo, but the kids LOVED it. I think it was worth getting a few plastic snowflakes stuck in my mascara.
5) Keeping with my commitment to keep it no fuss, I served yogurts with coordinating labels. Due to my excellent photo abilities, you can't read the labels as clearly as I had hoped. The fineprint read: Figgy Pudding Co. Serving the North Pole since 1681. Excellent Source of Calcium for Maximum Take Off and Landing. The fineprint on the front said 100% non-gravity enhancing. Blitzen Berry was favored over the Vixen Very Vanilla.
6) With a Reindeer Games theme, you have to have some Reindeer Games. We had Reindeer Relays with Reindeer Stick horses made by my mother. To answer your question – yes; she is the Mormon Martha Stewart. I call her Sandra Anderson Living daily. She acts annoyed, but I'm pretty sure she likes it. She is going to die when she reads this. Anyway, are those not the cutest Reindeer Stick horses ever? The Reindeer Games competition was fierce. These reindeer truly flew.
Source: www.loraleelewis.com
Cherryvale Farms Organic Muffin Mix, Blueberry, 16 Ounce


Grocery (Cherryvale Farms)




Organic natural healthy eco-friendly recycled packaging BPA and GMO free
Organic
All natural
Eco-friendly recycled packaging
GMO free
Wegmans Organic Cinnamon Applesauce, (6) 4oz Servings, 24oz Total Per Pack, (Pack of 4)


Grocery ()




USDA organic, Certified organic by the Ohio Ecological Food and Farm Association.
Vegan
Lactose Free, Gluten Free
Ingredients: Organic Apples, Organic Sugar, Organic Cinnamon, Water, Ascorbic Acid (to Maintain Color).
Fast Shipping!
Related posts: