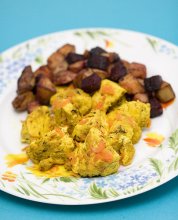 by IsaChandra
Scrambled tofu is probably one of the most mundane vegan recipes there is. Go ahead and roll your eyes when you open a cookbook and see the obligatory entry, I know I do, even at my own. But for a new vegan it's one of the most important dishes to learn. And for me, even though my inaugural tofu was scrambled 20 years ago, it's still a staple.
It's one of those things that changes with you, kind of like a culinary mood ring. My scramble used to feel incomplete without mushrooms, but lately I prefer a simpler texture, even onions aren't a necessity anymore. I went through a broccoli era, and used to take a hardline anti-red pepper stance, but lately the cruciferous is out and nightshades are in.
But you don't have to stop at breakfast, or limit yourself to a plate of scramble and hashbrowns. Look at scrambled tofu with fresh eyes! Here's a few ways to spruce up your scramble, or use up your leftovers.
Serve in a squash bowl: Serve in half a baked squash (acorn or carnival would work perfectly.) Caramelized onions would be nice, too.
Breakfast burritos: Wrap up with potatoes, fresh salsa and guacamole.
Add to mac and cheese: Use up leftover scramble (or make some scramble just for the occasion!) by adding it to your favorite vegan mac and cheese recipe.
Lettuce wraps: Tuck scramble into lettuce, serve with fresh tomatoes and drizzle with vinaigrette
Make a sandwich: Not the most ingenious idea, but one of my favorites! A scramble sandwich with avocado, red onion and sprouts.
Make a knish: Make potato knishes and add a layer of scramble
Stuff peppers: Mix with a can of black beans and some salsa. Stuff into red peppers, bake and top with a little vegan cheese at the end.
Crepe filling: Serve in a crepe, with a vegan hollandaise sauce.
And in case you don't have enough scrambled tofu recipes in your repertoire, here's another for good measure (from Vegan Brunch.)
Basic Scrambled Tofu
Serves 4
For me, a basic scramble should have nice big pieces in it. It's crumbled, yes, but not completely in crumbles. Just kind of torn apart and then broken up a bit when cooking in the pan. The flavor should be lip smacking and just a bit salty, but not overly so. Garlic, some cumin, a little thyme – that is the base. From there you can do countless variations using whatever is in your fridge that morning.
So this is my basic recipe. When you want a trustworthy and easy to modify standard scramble, this makes a great go-to.
Spice blend:
2 teaspoons ground cumin
1 teaspoon dried thyme, crushed with your fingers
1/2 teaspoon ground turmeric
1 teaspoon salt
Source: www.theppk.com
Easy Raw Main Dish Recipes - Best healthy Raw Menu Guide & Tips For Beginners


Mobile Application (BeckMicro)




Asian Slaw with Red Chili Peanut Dressing
Buddha Bowl
Wraps with Lime Cayenne Cream
Yellow Curry With Tofu
Stuffed Tomatoes with Dill Sauce
Cucumber Noodles with Coconut Cumin Lime Dressing
Easy Sushi Meal
Rich Lasagna
Pad Thai
UCC Video Tutorials
Step-by-Step Guide for Veganism Start your Journey to Healthier Eating with These Healthy, Easy, and Delectable Recipes!


Mobile Application (Rockred)




This book is about Veganism. Readers are given a blurb on what Veganism is and its categories in the Introduction. Following the Introduction is the Vegan Diet and...
For newbie s to Veganism, learn about the Veganism Diet and the benefits in the Introduction. Put the diet into practice with the collection of recipes for every...
Take pleasure in this collection of easy and nutritious recipes while getting into your new lifestyle.
Related posts: