I don't know what it is about January, but it's been so fantastic that I don't really want it to end. There have been some really good times – nights out with the girls, brunch and a lazy Sunday with the boys, a secret concert with the one and only Sharon Jones and The Dap-Kings, which was mind blowing and totally the icing on the cake for the month.
There were also a couple of outstanding meals. I know we're well into January, and I should be detoxing and eating sensibly like everyone else right now. But I've gotta be honest with you. I've been kind of bad. And I'm actually okay with that. Since it's Dungeness crab season in these parts, I see that as a sort of get out of jail free card.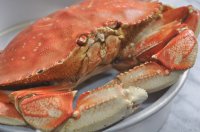 I've had crab a least four times this month alone and I couldn't be more pleased.
It started with a crab dinner with the homies at the beginning of the month. We ate crab sauteed in olive oil, garlic, and shallots, accompanied by a beet, blood orange, and fennel salad, potatoes with preserved lemon, and crusty garlic bread. It was an incredible meal. We all had to lie down afterwards.
A few days later, my mama steamed eight crabs for Sunday dinner. My mom's crab is like comfort food for me. There's nothing complicated about it, but her crab dipping sauce is insanely delicious – garlic oil, ginger, and red wine vinegar. It's my absolute favorite and no matter what I do, mine never turns out the way hers does.
Luckily for those of us in the Bay, this is the time of year when you see Dungeness crab on restaurant menus everywhere. Dungeness crab beignets at Brenda's (amazing, by the way). Dungeness crab rolls (better than a lobster roll, in my opinion). Dungeness crab eggs benedict, which I passed on during brunch one afternoon and much regretted afterwards. I knew what I had to do.
Source: fancyfoodfancy.wordpress.com
Related posts: