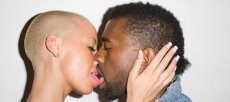 This week Amber Rose has been feuding with the entire Kardashian clan. Sort of awkward for Kanye West, since he's married to Kim and used to date Amber.
During an interview with The Breakfast Club this morning, 'Ye cut right through that awkwardness with a little of his signature bluntness, correcting the rumors that he was swapping photos with Kim while he was still dating Rose in 2010.
"It's very hard for a woman to want to be with someone that's with Amber Rose so [Kim] wasn't sending nothing … I had to take 30 showers before I got with Kim."
West also addressed his unfortunate diss of Beck after the Grammys, saying he finally got to hear some of Beck's Album of the Year Morning Phase. (While at a dinner with Taylor Swift, of course.)
"The other day I went to dinner and sat down with Taylor Swift. Ironically, they were playing [some of] the Beck album. I was like, 'Man, this is kind of good. I ain't gonna lie.'"
"I bet you that album is really good, " he continued. "I'm going to listen to that album and maybe it was potentially Album of the Year."
Additionally, West revealed that he was in talks to do a joint album with Drake before he did 2011's Watch The Throne with Jay Z. He could revisit that project again. As for his upcoming album … 'Ye says he is 80 percent done. The entire interview is below.
Source: news.hiphopearly.com
Related posts: