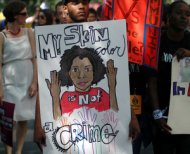 By Ernie McCray
A couple of weeks or so ago I dined with a number of friendly folks at a RISE Urban Breakfast Club forum that asked, concerning Community-Police Relations, "Can we build a safer San Diego together?"
The answer seemed to be "Yeah, we can, " as panelists, in a room where smiles drifted in the air like tissues in a breeze, talked of everyone chipping in to find good cops and of how we all need to shed our various biases, as "Trust is fragile." And it was good to know that the wearing of "body worn cameras" is going kind of nice.
I drove home convinced that there are some people truly dedicated to making relations better between the police and people they've harassed for centuries.
But the Tyrannosaurus Rex sitting smack dab in the middle of the discussion, "racial profiling, " was glossed over as though it was just a slight hiccup in the way of sound relationships between "Mr. Do Right" and angry black folks, rather than it being "The Problem!"
I mean it is written down that we are stopped more than other people are; our children, many of them as innocent as innocent can be, are charted on gang lists and getting off those lists is about as hard as understanding and applying the kinetic theory of gases and getting on the list is as easy as 1-2-3 and do-re-mi and the abc's.
A black kid can be documented for just hanging out with a gang (his neighbors) or for being seen frequenting places where gang members gather (a park, a local hang out, a corner, an alley, granny's house, all places in the neighborhood) or for wearing gang stuff (kids love to fit in, especially if they're feeling safe and protected). Truth is almost anybody who lives in a gang's territory could make the list. And many of those registered, I found out at the breakfast, don't even know they're on the list. Not to mention, gang membership is not a crime.
What law enforcement doesn't understand and/or doesn't care to understand, is that their tactics inflame emotions in people who are already feeling the deep burn of just being black in America.
And, if I may speak for a race of people, we just want it to stop. Being profiled is a hurdle we've faced in our struggle for freedom and dignity in this country since before we got here up until this very day. From the very start we generally were profiled as people it's okay to mess with (and "mess" ain't the four-letter word I really want to use here).
Hey, when slave traders saw us, we fit the profile they were looking for: sturdy looking black people with good teeth and strong flexible muscles that could adjust to all the lifting and hauling and picking and hoeing and raking and digging we were to do and all the positions they were to put us in, in order for us to do it.
Then came a decree saying that we were free and we were quickly profiled as folks to be subjected to a host of "can'ts": can't eat here, can't drink at that fountain over there, can't swim down the street or skate at the rink or sit on the first floor of the picture show…
Source: sandiegofreepress.org
iPhone6 Plus Sports Armband, Nancy's shop Easy Fitting Sports Universal Armband With Build In Screen Protect Case Cover Running band Stylish Reflective Walking Exercise Mount Sports Sports Rain-proof Universal Armband Case+ Key Holder Slot for Iphone 6 Plus (5.5 Inch) (Sky blue)
Wireless (Deego)
Designed specifically for iPhone 6 Plus, Lightweight armband keeps your phone secure and protected.
Water Resistant and sweat-proof funtion to better protect your mobile phone, make you feel more comfortable during exercise,Due to varying color display...
Built in Reflective strip for safe running in low light conditions. Built-in Key holder. Cutouts for easy access to headphones port and controls. A sweat resistant...
Material: Lightweight soft neoprene that is molded to twist and bend but will not stretch out of shape. Washable with gentle soap and water, then air dry. Can keep...
Functionality: Provide excellent protection during sport, such as running, biking, jogging, walking, working out etc. Touch screen works through the clear cover
Melissa & Doug Alphabet Express Floor Puzzle


Toy (Melissa & Doug)




Made using the highest quality materials
Tested to be safe and durable
Great fun for your baby and child
Climb aboard the alphabet express with twenty six zany animals for letter and puzzle fun
Over ten feet long when complete, it features 27 extra thick pieces that are 20% thicker than the competition s
Its easy clean surface keeps puzzle looking new
Bright, colorful and dynamic
Exceptional quality and value
Related posts: