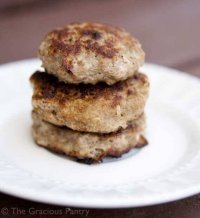 Sometimes, you just gotta have some sausage with breakfast. Right?! That's been my experience anyway. What else could possibly pair so well with eggs?
Well, okay. Bacon goes really well with eggs too. But a girl needs a little variety, even with clean bacon!
But seeing as how I've yet to find an actual sausage that qualifies as clean and doesn't have any added sugar, I decided it was high time to make my own. And the nice thing is, the sodium content won't give you a stroke just by looking at them. They turned out really tasty!
(Makes 12 patties)
Ingredients:
1 1/4 pounds lean, ground turkey
2 teaspoons garlic powder
1 teaspoon sage
1/2 teaspoon allspice
Directions:
In a medium mixing bowl, mix together all the ingredients.
Form into 12 equal portions, shape into patties and cook. You can either fry them or bake them it's up to you.
If frying: Coconut oil or olive oil is a great way to go.
If baking: Use parchment and bake at 350 for about 30 minutes, give or take. Break one open to see if they are done cooking. I also highly recommend the use of a thermometer when cooking meat. The patties should reach at least 165 F. to be fully cooked.
Source: www.thegraciouspantry.com
BACON The main reason I'm NOT A VEGETARIAN - 7 1/2" x 3 1/4" die cut vinyl decal for windows, cars, trucks, tool boxes, laptops, MacBook - virtually any hard, smooth surface. NOT PRINTED!
Automotive Parts and Accessories (Barefoot Graphix)
Die Cut decal made out of premium Oracal 651 vinyl rated for 6 year exterior application.
Clear application tape for easy professional installation. Complete installation instructions included with every order.
Can be applied to virtually any clean, smooth hard surface.
Decal is precision cut out of solid vinyl. The only thing to be applied is what s shown in white.
Size is approximately 7 1/2 x 3 1/4
Related posts: