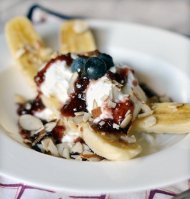 It's Breakfast Week here at The Kitchn, a whole week devoted to that essential first meal of the day. We do this a couple times a year, and people always go wild! People just love breakfast. We do too, and so that's why we're bringing you a selection today of breakfasts to make your mornings easier and more delicious: Quick recipes like the yogurt breakfast banana split pictured above, and avocado toast and quick scrambled migas. But easy can also mean make-ahead, so we also have make-ahead breakfast bars, oatmeal in jars for breakfast on the go, and even DIY yogurt cups.
Come celebrate breakfast with us this week - start your day off right!
QUICK BREAKFASTS TO MAKE IN THE MORNING
- Banana, yogurt, jam and nuts. Fun!
- More on breakfast salads here. Simple and savory.
- Toast, olive oil, avocado.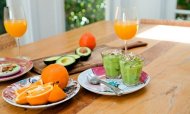 Yum.
- A quick scramble with tortila scraps.
- Another quick scramble with tomatoes.
- A vegan morning scramble.
- A sweet, creamy, unexpected breakfast.
QUICK BREAKFASTS TO MAKE AHEAD OF TIME
- Yogurt cups you can grab and go.
- Cut up these bars and package them separately for quick morning snacks.
- A savory baked good.
- A hearty casserole you can package up ahead of time.
- Prep oatmeal in jars and take it to the office with you.
- Oatmeal that cooks in your slow cooker overnight.
Source: www.thekitchn.com
Related posts: